Environmental Policy
The ID Group recognizes that the preservation of the earth's environment is one of the most important issues faced by humanity in common. We take the environment into consideration in every aspect of our business activities.
The Group sets clear environmental objectives and targets and reviews them regularly. In pursuing the creation of
an exciting

future for everyone, we strive Group-wide to devise real solutions to environmental problems.
For the children of the next generation, we carry out constant activities to protect the global environment.
We find ways to reduce our use of paper and electricity and reduce our generation of waste, and carry out support activities to protect the natural environment.
Masaki Funakoshi
President and Representative Director
ID Holdings Corporation
Framework for Environmental Action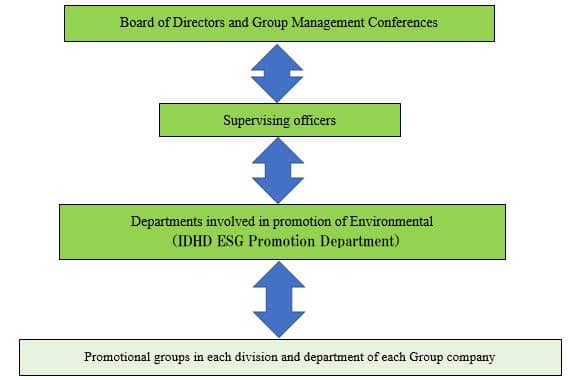 Compliance
The Group complies strictly with all environmental laws and regulations as well as environmental requests regarding confirmed orders and others. We continually strive to improve preservation of the environment.
Key Points Regarding Environmental Management
When proposing solutions and services, we take great care to minimize environmental impact.
We pursue electricity-saving activities.
When using vehicles for business, we strive to reduce the amount of fuel consumed.
We manage plastic and other waste appropriately, reduce waste generation, and recycle.
We pursue the effective use and recycling of office-automation paper and preserve precious resources.
We pursue green purchasing Group-wide.
We participate enthusiastically in activities to preserve the environment.
To implement the policies outlined above, we establish frameworks for the advancement of environmental activities; provide environmental education and training to Group employees; conduct public-relations and other environmental-awareness activities both within and outside the Group. In these ways we strive to increase awareness of environmental issues.
Environmental Targets and Measures to Achieve Them
CO2 Emissions Arising from Electrical Power Use
| | FY2018 results | FY2020 targets |
| --- | --- | --- |
| CO2 emissions at head office | 210,328㎏ | 5% reduction |
| (Emissions per sqm) | 44.83kg | 5% reduction |
Enhancement of Green Purchasing
Before purchasing products, the Group carefully considers the necessity of the purchase and the durability of the products. Selection favors products that can be recycled when no longer needed.

Paper: 90% or higher green purchasing rate

Targets and results for reduction of CO2 emissions from recycling and reduction of deforestation
| | FY2018 results | FY2020 targets |
| --- | --- | --- |
| Reduction of CO2 emissions from recycling | 1,681㎏ | 10%UP |
| Reduction of deforestation | 58 trees | 10%UP |
The Group is working toward the elimination of plastics use, reducing the use of polyethylene terephthalate (PET) bottles, plastic labels and the like. The Group is also working to achieve a 100% recycling rate through sorting of trash.
Improvement of Participation Rate in Environmental Volunteer Activities and Advancement of Volunteer Activities
| | FY2018 results | FY2020 targets |
| --- | --- | --- |
| Environmental volunteer activities | 1 event, 96 employees participating | 3 events, 40 people participating in each |
Protection of biodiversity
The ID Group uses the manatee, a marine animal designated as an endangered species, as our company mascot. By featuring our mascot in illustrations, LINE stamps, etc., we help raise awareness for the marine environment.

In recent years, the problem of microplastics has grown increasingly serious. Microplastics occur when plastic PET bottles, straws, and other products are broken down into small fragments, ultimately becoming marine plastic debris that has a negative effect on the marine environment. In order to reduce plastic trash and improve the marine environment, we encourage ID Group employees to use their own drink tumblers.