Global Service
Trust ID with Your Overseas IT Environment Management
Japanese corporations are increasingly expanding their businesses overseas. However, local IT conditions must be taken into account in order to build an optimum IT environment and to select the most suitable telecommunication infrastructure. Since the establishment of a local ID Group corporation in Wuhan, China, in 2004, the ID Group has continued to build up a global network that now includes Singapore, the United States and Myanmar. The ID Group can support customers' overseas businesses comprehensively through its wide overseas network.
Global Support Network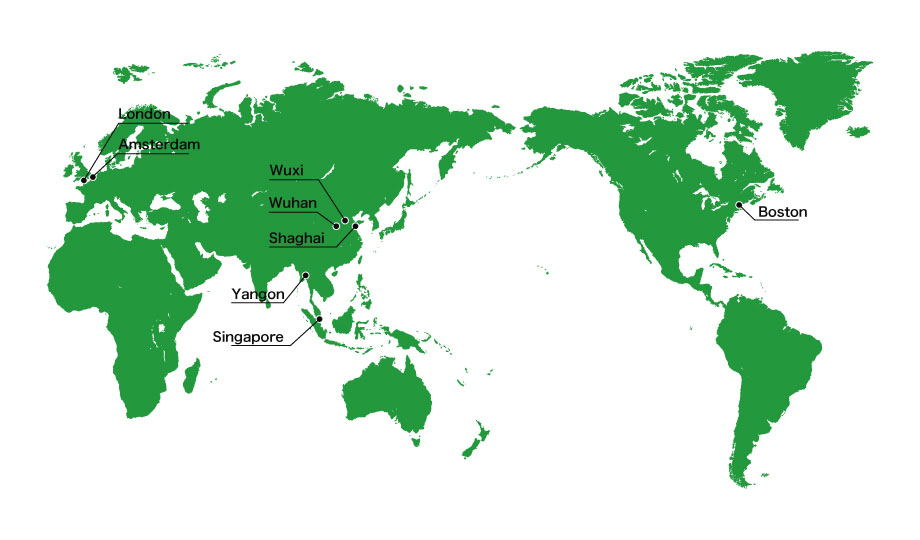 ID offers fast and high quality IT services across the world through collaboration with ID Group sites in China (Wuhan, Wuxi, and Shanghai), Singapore, Myanmar, US, UK and the Netherlands as well as with our overseas business alliance partners.
We want to seamlessly manage and maintain an offshore data center
IDhas an extensive record of establishing and maintaining data centers for major banks and multinational clients. ID manages the entire setup and training process, and provides onsite operations support and remote monitoring.
We want to quickly design and implement a reliable system
In addition to our Japan headquarters,ID has full-service system development teams in China, Southeast Asia, and North America. ID can quickly design and set up systems from any of those bases by taking advantage of the time differences between each country that will function with the same world-famous Japanese quality and dependability.
We want our systems to be fully protected from cyberattacks
ID has collaborated with security vendors for more than 20 years to protect the information assets of our customers in offices and data centers of all sizes. ID can tackle any cybersecurity problem, from doing an analysis of an existing situation to improving or redesigning the data environment, or providing ongoing monitoring and maintenance.
Contact
Global Management Department Tel: +81-3-3262-
8708