Environmental Policy
Based on the mission of "creation of an exciting (Waku - Waku) future for everyone" in our corporate philosophy, the ID Group will strive to conduct business activities that consider the conservation of the global environment, which is one of the most important issues shared by all of humankind.
Environmental Promotion System

The ID Group will establish an appropriate Environmental Promotion System so that all officers and employees understand and comply with the purpose of our Environmental Policy.



Compliance with laws and regulations

The ID Group will comply with all environmental laws, regulations and other requirements that we have accepted, and will strive to protect the environment.



Priority items of environmental management

・Reduce environmental load by providing solutions/services which do not have a significant impact on the environment.
・Promote energy conservation activities to reduce CO2.
・When using commercial vehicles, be aware of reducing environmental impact during operation.
・Strive to properly manage waste (mainly plastic), reduce emissions, and recycle.
・Promote the digitization of information and reduce the amount of paper used.
・Promote the purchase of green products.
・Actively participate in environmental conservation activities.



Raising awareness and holding education

In order to raise awareness toward our Environmental Policy and other regulations, and to improve environmental awareness among our officers and employees, the ID Group holds periodic education and endeavors to actively and responsibly engage in environmental management. We also disclose information and actively communicate with our stakeholders.

Continuous improvement



The ID Group periodically reviews our Environmental Policy and regulations, and continuously strives to make improvements in line with the environmental management system to ensure that the Policy and regulations are always optimal.

Enacted on: July 25, 2019
Last revision: December 1, 2021
ID Holdings Corporation
Masaki Funakoshi, President and Representative Director
Establishment of an Environmental Management System stand (ISO14001)
In order to realize a society which is friendly to Earth, the ID Group acts with an awareness of protecting the global environment to preserve the Earth for coming generations. As the importance of environmental conservation increases, the Group has established an Environmental Management System and obtained certification at our Head Office in the Bancho-Kaikan neighborhood.
We will continue to implement a PDCA cycle and constantly implement sustainability measures.

【Registered business】
Information Development Co., Ltd.
ID Data Center Management Co., Ltd.
DX Consulting Co., Ltd.
K.K. PURAIDO
ID Wuhan (Tokyo Branch)
ID Myanmar (Tokyo Branch)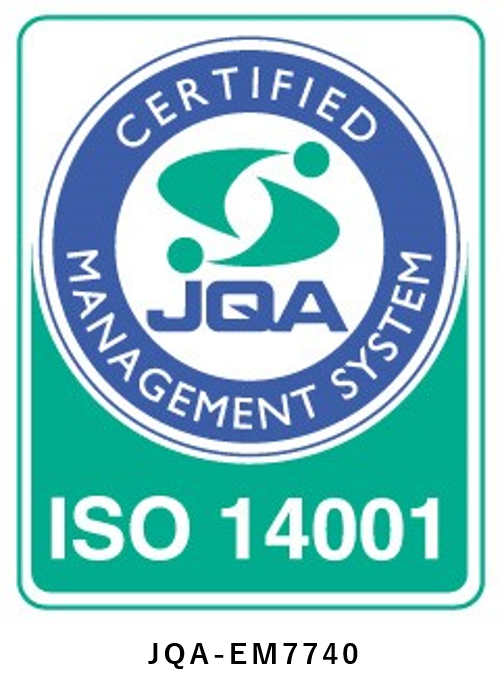 Specific initiatives and environmental goals
CO2 emissions (power usage)
| | Actual amounts in FY2020 | Target for FY2021 |
| --- | --- | --- |
| Amount of reduction in CO2 emissions | 210,328 kg | 3% reduction |
| (emissions amount per 1 m2) | 44.83 kg | Improvement |
Promoting green purchasing and deplasticization
Considering factors such as necessity and durability, we purchase products that can be disposed of via recycling when not needed. We also promote the reduction of product specifications and sorting for plastics bottles, plastic labels, etc.
Actual and target values of CO2 emissions reduction amount and deforestation reduction amount by recycling
| | Actual amounts in FY2020 | Actual amounts in FY2021 | Target for FY2022 |
| --- | --- | --- | --- |
| Green purchasing rate | 100% | 100% | 100% |
| Recycling rate | 100% | 100% | 100% |
Reduction of paper usage
We are reducing the amount of paper used and accelerating digitization.
| | Actual amounts in FY2020 | Actual amounts in FY2021 | Target for FY2022 |
| --- | --- | --- | --- |
| Amount of paper used | 1,017,633 sheet | 841,392 sheet(Year-on-year -17.3%) | 815,180 sheet(Year-on-year -3%) |
Protection of forests by recycling paper
We contribute to the reduction of forest logging by recycling used paper.
| | Actual amounts in FY2020 | Actual amounts in FY2021 | Target for FY2022 |
| --- | --- | --- | --- |
| Amount of trees saved from forest logging | 85.6 trees | 94.3 trees | 97.1 trees |
Improving the participation rate of environmental volunteers and promoting volunteers
The Group holds beach cleanup activities from the perspective of environmental issues related to serious marine debris. By raising awareness, the small efforts of each individual will contribute to the resolution of serious problems. We are also working on ISO 14001 standards in order to improve environmental performance. Furthermore, we are earnestly addressing environmental issues; for example, we established an Environmental Enhancement Month at the Group in October 2020.
| | Actual amounts in FY2020 | Actual amounts in FY2021 | Target for FY2022 |
| --- | --- | --- | --- |
| Environmental volunteer activities | 12 times, 112 participants | 15 times, 173 participants | 200 participants or more |
Initiatives for Climate Change
Endorsement of the TCFD Recommendations
 The ID Group has declared its endorsement of the Recommendations of the Task Force on Climate-related Financial Disclosures (TCFD) and is a participant in the TCFD Consortium of companies, financial institutions and other organizations that endorse the Recommendations. The Group is carrying out measures to respond to intensifying demands for action on climate change and achievement of zero carbon, which the Group has identified as materialities, in accordance with the framework of the TCFD.
By increasing the intensity and frequency of natural disasters such as severe rainfalls and major typhoons, climate change can impact the continuity of Group business. Moreover, carbon taxes and other restrictions on carbon emissions may be increased amid efforts to alleviate climate change by achieving carbon neutrality. On the other hand, demand can be expected to grow for products and IT solutions that contribute to the reduction of environmental impact by aiming for carbon neutrality.
For the reasons given above, the ID Group is striving to support the achievement of carbon neutrality for society as a whole. Our approach is to provide solutions and services that promote the reduction of environmental impact of society overall.

Governance
 The ID Group is committed to advancing sustainable management Group-wide. For this reason, we have built a framework for the active discussion and examination of concrete measures to deal with environmental issues, including the problem of climate change.
The Sustainability Committee, whose members include the President and Representative Director, analyzes the risks and opportunities that climate change presents for the Group. The Committee shares policies and other actions for responding to these issues, formulates action plans to deal with Group environmental issues and monitors progress.
The Sustainability Committee reports the details of its consultations to the Board of Directors, which debates and supervises policies, action plans and other actions to respond to environmental issues confronting the Group.
The ID Group also constructs an environmental management system (EMS) based on ISO 14001. The results of activities of the EMS are reported to the Board of Directors through the Management Meetings.



Strategy
Important risks and opportunities that may impact the Group are as follows.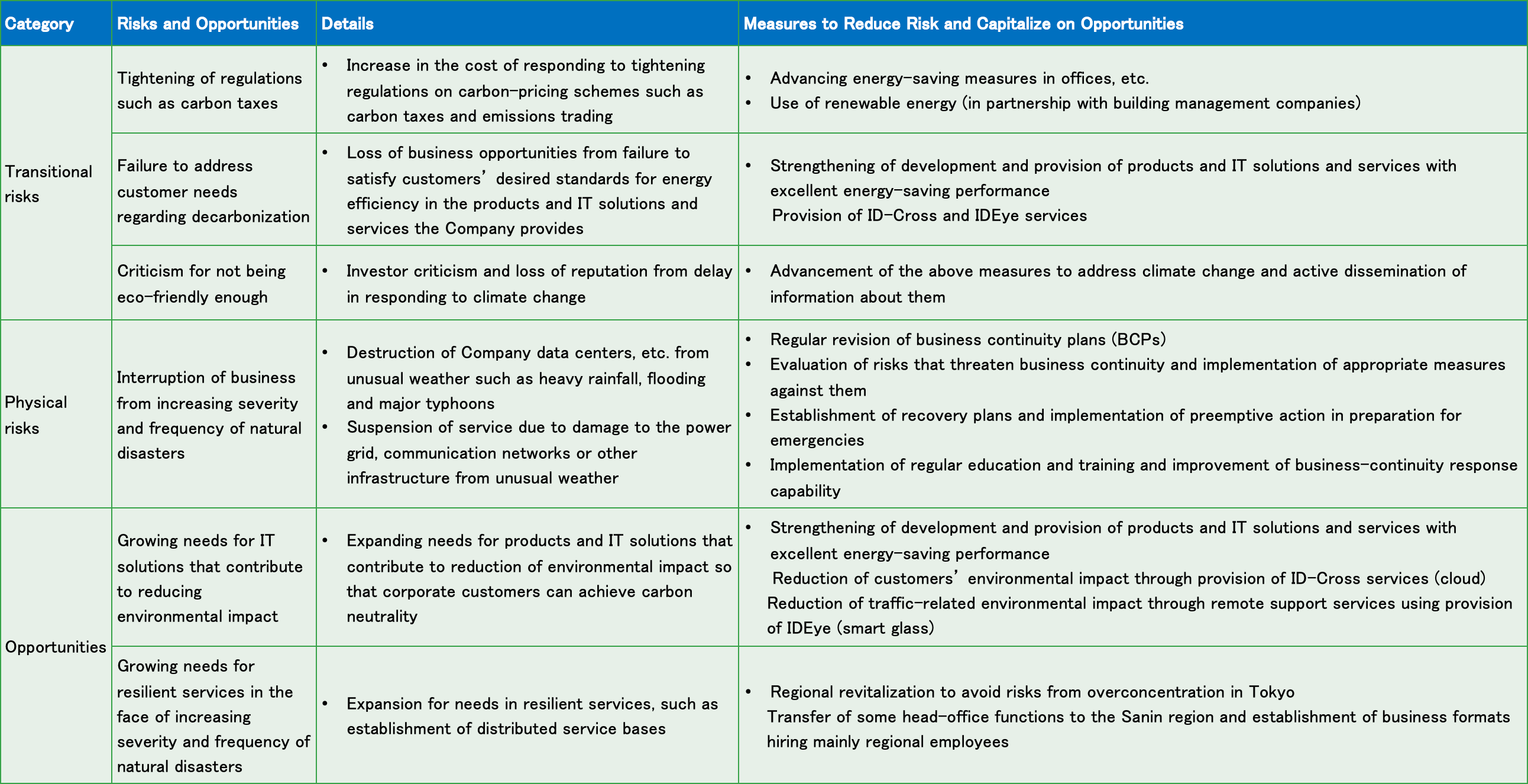 Risk Management
 To respond to the wide range of risks it assumes in carrying out its business operations, the ID Group stipulates a Basic Risk Management Policy. The Group has also established a Group Risk Management Committee, which serves as an advisory body to the Board of Directors. Chaired by the President and Representative Director of the Company, this Committee includes members of the Board of Directors, Operating Executive Officers, the Presidents of Group companies and related officers and employees. The Group Risk Management Committee identifies, evaluates and manages phenomena that pose risks to the Group as a whole, including climate-change-related risks, and reports the results of its deliberations to the Board of Directors. With respect to climate change, the Analysis Subcommittee of the Group Risk Management Committee liaises with the Sustainability Committee to analyze the risks and opportunities that climate change presents for the Group, formulate action plans to deal with Group environmental issues, and monitor progress. In addition, the Board of Directors deliberates on and supervises response policies, action plans and other actions with respect to environmental issues.



Indicators and Targets
 In its evaluation of climate-related risks and opportunities, the Group has concluded that the impact of opportunities to provide IT solutions and services to deal with climate change is greater than that of the attendant risks. To reduce its emissions of greenhouse gases (GHGs), the Group is conducting efforts focused on slashing electricity consumption at its head office and other offices. In the first half of FY2022, the Group's head office will switch its energy supply fully to renewable energy.

【GHG Emissions】
To manage risks associated with climate change, the Group has set targets for reduction of GHGs, including CO2.

  By FY2025 the Group aims to reduce GHG emissions by 20.0% in comparison with FY2020.
  By FY2030 the Group aims to reduce GHG emissions by 30.0% in comparison with FY2020.





Protection of biodiversity
Manachan
The ID Group uses the manatee, a marine animal designated as an endangered species, as our company mascot. By featuring our mascot in illustrations, LINE stamps, etc., we help raise awareness for the marine environment.

In recent years, the problem of microplastics has grown increasingly serious. Microplastics occur when plastic PET bottles, straws, and other products are broken down into small fragments, ultimately becoming marine plastic debris that has a negative effect on the marine environment. In order to reduce plastic trash and improve the marine environment, we encourage ID Group employees to use their own drink tumblers.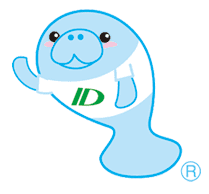 | | |
| --- | --- |
| Date of Birth | 2007/4/1 |
| Gender | Boy |
| Birth place | Florida,USA |
| Division | Travel Division |
Support for WWF (World Wildlife Fund) Japan
The ID Group supports WWF (World Wildlife Fund) Japan as a corporate member. WWF is a global environmental conservation organization that is active in more than 100 countries. It was established in Switzerland in 1961. WWF's activities aim to build a future where humans and nature can live in harmony, mainly by protecting the diversity of life on earth, and minimizing the negative impact that human life has on the natural environment and wildlife.  Having always acknowledged that the preservation of the global environment is one of the most critical issues that all humans face, the ID Group has endeavored to protect the environment in all aspects of its corporate activities.  Modeled after the North American manatee, an animal designated as a threatened species, the ID Group's mascot Mana-chan serves to protect the diversity of life and to encourage the improvement of the marine environment.  Through Mana-chan's activities, we demonstrate our agreement with WWF Japan's mission and principles of action, as well as continuing to support WWF Japan as a corporate member.