Investor Relations

Management Strategy

The Mid-Term Management Plan「Next 50 Episode I: Awakening!」
The Mid-Term Management Plan (FY2019 - FY2021)


The business environment in information services has undergone tremendous changes in recent years. Through digital technologies such as RPA-AI, digital transformation (DX)1 has advanced rapidly, revolutionizing existing businesses. For the ID Group, this market change represents a growth opportunity. The ID Group is positioning itself for further business expansion in its latest Mid-term Management Plan, Next 50 Episode I: Awakening!, covering the period from the fiscal year ending March 31, 2020 to the fiscal year ending March 31, 2022.


In October 2019 the ID Group celebrates the 50th anniversary of its foundation. Positioning this new Mid-term Management Plan as a springboard for another 50 years of rapid progress, the ID Group will execute its strategy for further growth, boosting enterprise value while delivering stable and continuous return to shareholders.
 For more information, please click here.
the ID Group has revised its targets for FY2021, the final year of the current Mid-term Management Plan.
 For more information, please click here.
Numerical Targets

Basic Policies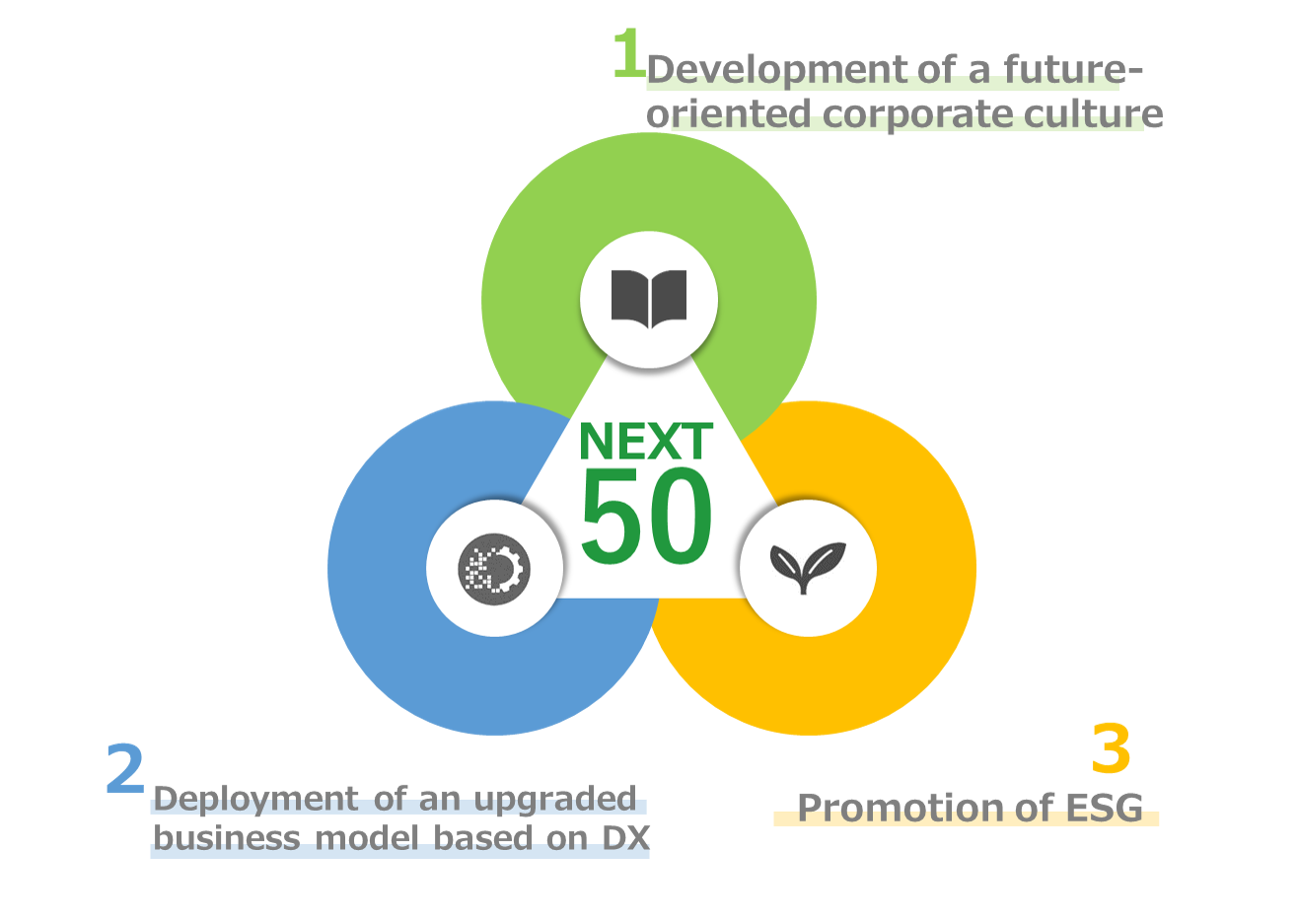 1. Development of a future-oriented corporate culture
Diversity of personnel and fostering of innovation are indispensable for the sustainable growth of the ID Group. The ID Group will hire and train diverse individuals while continuously overhauling its organization, systems and work environment so that all personnel can achieve their maximum potential. We will also cultivate a work environment that embraces future-oriented challenge and innovation.

2. Deployment of an upgraded business model based on DX
Amid today's rapid trend toward digitalization, the ID Group's corporate clients are moving forward with the introduction and use of innovative technologies. Informed by knowledge and expertise in customer systems accumulated over many years, the ID Group will roll out an upgraded service model that brings added value to customer needs by combining existing service solutions with advanced technologies.

During these three years, the ID Group will focus squarely on engineer training, to shift existing services to more upstream processes. In so doing the ID Group will shift from a worker-time-based business model to a result-reward-type business model.

3. Promotion of ESG2
Through its provision of information services, the ID Group strives to develop solutions to society's problems while creating sustainable growth and social value. By strengthening its commitment to each aspect of ESG investment, the ID Group is working to achieve growth and development for all stakeholders, including customers, shareholders, and employees.
*1. Digital Transformation refers to the combination of existing service solutions with advanced technologies such as robotic process automation, AI and IoT.
*2."ESG" stands for "environmental, social and governance." The ESG approach holds that an appropriate response to each of these three areas of concern is a core driver of the long-term growth of an enterprise and plays a valuable role in the formation of a sustainable society.