SDGs addressed by the ID Group
The ID Group is working to solve various social issues by providing IT services such as construction, operation, and maintenance of IT systems.
The SDGs (Sustainable Development Goals) are international goals aimed at a sustainable and better world by 2030. The 2030 Agenda for Sustainable Development, which was adopted at the United Nations Summit in September 2015, consists of 17 goals and 169 targets. Currently, Japan is one of the numerous countries who are actively pursuing the SDGs. The ID Group will also contribute to the achievement of the SDGs.
Social issues
Shortage of human resources due to declining birthrate and aging population in Japan
■Service: RPA and AI for business
We support the automation of business by introducing RPA solutions for our customers' business. The ID Group provides total support from the selection of tasks for automation to business analysis, tool introduction services, and operation/maintenance services.
Business analysis services
Introduction support services
Operation/maintenance services
■Effects
Realizing rewarding work by improving work efficiency
Utilizing advanced skills to build the foundation for industrial and technological innovation
■Related SDGs
Risk of concentration in Tokyo; regional revitalization
■Service: Promotion of regional employment
The ID Group has established a New Normal Adaptation Project and is promoting business process reforms utilizing the Sanin Division in order to avoid the risk of concentration in Tokyo head office and to improve productivity. At Sanin's ID Cloud Managed Center, we are working to expand our business, including system operation, monitoring, and contract software development that utilize the cloud and remote operation. Regarding the partial relocation of head office operations to Tottori Prefecture, an agreement was reached for the purpose of cooperation and support between Tottori Prefecture and Yonago City regarding business expansion and securing of factor resources in the prefecture. This is the first case of such cooperation in Tottori Prefecture after the spread of COVID-19.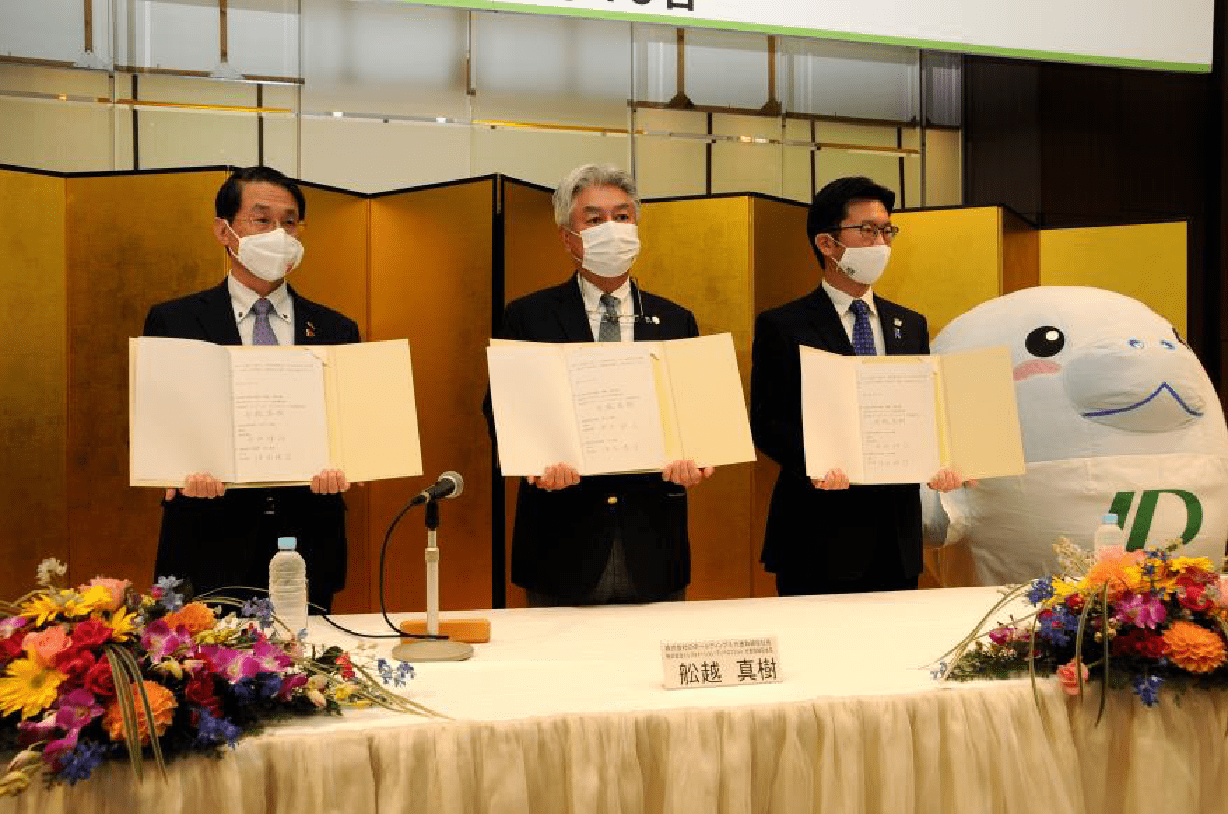 Signing ceremony for partial relocation of head office operations and business expansion in Sanin
■Effects
Realizing rewarding work and economic growth by promoting remote work
Risk diversification and regional revitalization
■Related SDGs
Complicated system environments
■Service: Establishment of system infrastructure environment
From consulting to maintenance/operation, we provide total support for stable operation of the system infrastructure environment.
Construction of a labor-saving system infrastructure which is highly maintainable
■Effects
Realizing rewarding work and economic growth through stable system operation
Through cost reduction and labor saving, we achieve labor saving and create an environment where people can continue to live
■Related SDGs
Realization of diverse work styles
■Service: Vegetable cultivation that employs people with disabilities
With the aim of promoting the employment of people with disabilities in the ID Group, we began operation of an all-weather plant factory in Tottori City in January 2014. The factory was created by renovating a closed elementary school. In May 2016, the factory was certified as a special subsidiary of the ID Group. Based on the concept of safe vegetable production with peace of mind, we cultivate more than 20 types of leafy vegetables without using pesticides.
Grown without using pesticides in a plant factory (clean room)
Stable price, quality, and supply
■Effects
Eradication of inequality among people and in Japan and creation of rewarding work through stable employment of people with disabilities
■Related SDGs
Delayed implementation of IT in medical fields
■Service: Operation of medical systems
As an electronic medical record operation solution for medical sites, we provide spot services such as creation and operation support for electronic medical record systems, content creation, and data processing. We provide various services at a total of 30 facilities, and experienced system engineers are in charge of operations such as resident-type help desk services, operation support for information system departments, and operation training, and respond to needs related to hospital information systems.
Master maintenance for medical information systems
Operational support for medical information systems
Support desk for electronic medical record operation
Spot services such as content creation, training, and data processing
■Effects
Creating a foundation of industry and technology by improving the work efficiency of medical sites
■Related SDGs
Threats of increasingly sophisticated cyberattacks
■Service: Security for advanced cyberattacks and automatic network monitoring by AI 24 hours a day, 365 days a year
We utilize the cutting-edge AI security Seceon OTM to provide security solutions using AI machine learning. By visualizing network data, we provide protection against malware activities and information leaks, as well as threat detection and countermeasures against other cyberattacks. AI realizes automation of security operations by combining behavior analysis and dynamic threat analysis in a completely new method.
Threat indicators
Correlation analysis and alerts
■Effects
Constructing a technological innovation platform by strengthening security
An industrial foundation for high-level security at low cost
■Related SDGs
Shortage of IT human resources and complicated system environments
■Services: Cloud-based IT infrastructure, outsourcing of operations
For cloud computing on IT infrastructure, we assist in problem solving with total support from proposal to design, construction, migration, and operation. We will fully utilize our extensive know-how in IT systems acquired by our Group over a period of many years to achieve fast design, construction, and migration. Furthermore, our specialized departments realize a high degree of security for customer systems, and provide fully-managed services ranging from management to operation of cloud service administrator accounts.
Multi-cloud introduction services

Services for high-quality design and fast system construction
Advanced security services provided by specialized units
Services for streamlined and short-time system migration

Multi-cloud managed services

Remote operation and management
Monitoring/operation
■Effects
Economic growth by improving operational efficiency through fully utilized IT
Technological innovation platforms by improving quality and reducing costs
■Related SDGs
Problem of regional disparity
■Service: Providing tools for remote work
We provide the cloud service IDEye that makes it possible to support and check work from a remote location using smart glasses. Remote work sites and checkers can share images, video, and audio in real time through smart glasses. People wearing smart glasses users can work hands-free, thus enabling safe work without any hassle. Additionally, since checkers can confirm the work site from the worker's point of view, it is possible to conduct detailed checks of work without going to the site.
Real-time transmission of images, video, and audio to remote locations
Remote work confirmation is possible
Security with two-factor authentication
Identification of unauthorized use in communication logs, etc.
■Effects
Constructing a technological innovation platform by being able to perform confirmation work without going to the site
Constructing a technological foundation that can respond quickly when an abnormality occurs
Constructing a technological foundation for remotely providing accurate instructions and eradicating inequality in medical treatment
Remote treatment and medical examination is possible even in regions where advanced medical care is inadequate, thus spreading health and welfare to all people.
■Related SDGs