Career Growth
Bringing New Products to Japan is Both Challenging and Fun
I originally came to Japan from Sweden to study culture and language. From that point I knew I wanted to work here. When I heard ID's "Change or Die" slogan at an information seminar, it resonated with me and I joined the company in 2014. I originally was placed in a development area, but was moved to my current department in February of 2015. I work in international research and integrating new products into the Japanese market.

Because many of the products come from abroad, it is my job to describe the value and perks of each product to our customers. I have great job satisfaction from sharing goals with our customers and speedily completing tasks together. I get to try out many different products when figuring out what is best to introduce to the Japanese market, and it's very rewarding when I see a product I introduced being used by others. Since I also head the localization process, I get to be a part of each project from start to finish.
About International Employees
I Want to Contribute My Own Personal Value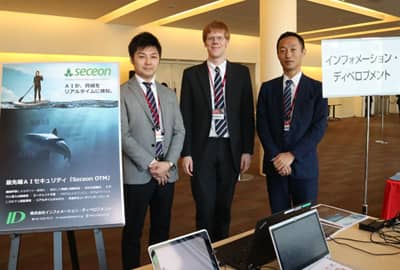 Mainly, I've been working on projects based out of the United States and hope to contribute ideas about global expansion from here on out. When I think about the future of ID, I see that it will begin to put an importance on global business. I feel like if I can contribute to that, I will have an even more satisfying job.

What's most important to me now is concentrating on the work in front of me. I believe that I can build myself up to be better. I will work hard and take on challenges in order to become a top employee. By utilizing our current situation, I hope to take the lead in creating change in relation to globalization at ID.
About ID
A Culture That Respects All Employees & Backgrounds
ID has a stable business record and is actively pursuing diversity & globalization. There are global communication seminars not only for international employees such as myself, but also for Japanese upper management as well. The seminars consist of understanding other cultures and ways of thinking, and how we can use those differences to create a stronger company.

The "Change or Die" slogan is very appropriate in this era. Because technology is rapidly changing, the company must adapt in order to survive. Because of this we welcome proposals and opinions from all employees in order to get the best point of view as possible. This type of environment is really rewarding and great to work in.
To Future ID Employees
I Work Hard Because I Agree with the Corporate Philosophy
ID's Corporate Philosophy is to be "An information service company dedicated to the creation of exciting futures for everyone". In order to do this, we work by three attributes: "High technology is ID's life force", "High quality service is ID's mission", and "Challenging the unknown is ID's proposition". Being able to abide by this philosophy and attitude is very important in the workplace. I'd like for students to find a point in our corporate philosophy that resonates with them.

We have many different departments with many different types of people working in them here at ID. Workplace relations are just as important as the job itself. I hope that you will all attend our information seminar and take the opportunity to speak with some employees. Maybe you just might find that ID is the best match for you.