Career Growth
I went from Development to Marketing
I went from system development to a marketing position. I joined ID in 2005, and for the first six years I worked in software development for mainly financial institutions. In September of 2009, I utilized the company study abroad program and went to China where I studied both Chinese and English. Upon returning to Japan, I began working in planning for IT infrastructure. After gaining experience in private clouds and security service planning & development, I transferred to where I am now: the Cyber Security Division. Here I work mainly on marketing in a managerial position.

Thinking about how I can make sales to keep up with the fast company growth is a heavy responsibility. Because of this, I feel really happy when I am able to make a sale. I also create promotions and hold lectures & seminars, but when I am able to see the customer's reaction to the product, I feel incredibly happy. My job is a creative one because it involves production of flyers, pamphlets, and web sites. Being able to do all of these things at work gives me a great sense of job satisfaction.
My Future Dream
To Become the Head of Marketing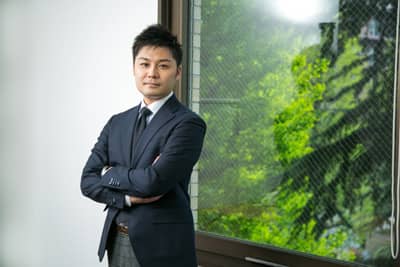 Marketing requires an understanding of both the development and sales departments. If you can utilize this understanding, you can be incredibly beneficial for the company. It's my dream to research better marketing methods and deploy them on a company wide scale.

I am currently working with security products that utilize AI and am very excited to be able to present this new technology to our customers. From this point forward, I'm hoping to become a marketer that can greatly contribute to the revenue of this company.
About ID
The Corporate Style is Ahead of its Time
To describe company atmosphere in one word, I would say "diligent". In order to ensure customer satisfaction, we all take our jobs very seriously and work as hard as possible. Of course, atmosphere will differ between departments, but I can say that the development division has a very friendly atmosphere. My current department is small but full of elite employees. Of course there are elite employees in the development division, however, individual responsibilities are more plentiful in my current department, so it's a given that we show more professionalism. Even with that being said, it is still important for all department members to cooperate and keep a good balance of contact with each other.

One more thing at ID is that the initiatives are state of the art. We are currently implementing state of the art technology, and giving our engineers a chance to use it. The fact that we can actually work with the proposals that we are giving to customers is a really great point of this company. We are currently working on implementing work style reforms based on governmental recommendations. I am helping out with that by contributing in house systems. Making society a better and more convenient place is simply common sense for us, and we will continue to work on getting things done.
To Future ID Employees
Give 110% in Doing Things You Can Only Do as a Student
Being able to study abroad was really important in order to broaden my perspective. Once you become employed, you have to use your time wisely. That's why I recommend that you do things like travel abroad during your student life when you're able to take off a lot of days at a time.

When you start job hunting, try to take a look at as many industries and companies as possible. It will help you figure out what kind of job will be the best match for you. Once you figure that out, you will have a pretty good understanding of the work you'd like to do and will be able to do your job quite well. I want to work with someone who experiences the things they can only experience as a student, and makes active attempts to broaden their knowledge and understanding of their surroundings.