Performance Highlights(Quarter)
Net Sales
¥12,174 million (-7.6% YoY)
Results in system infrastructure and cybersecurity trended favorably, while acquired subsidiaries contributed to revenues. However, in fields such as software development and system operation management, five large projects ended, reducing revenues by ¥1.058 billion. Net sales in H1 FY2020 tumbled 7.6% against the same period of the previous fiscal year (YoY), to \12.174 billion.
Operating Income
¥653 million (-43.6% YoY)
The decline in sales engendered a fall in earnings. The COVID-19 pandemic prompted corporate customers to revise their systems investment plans and make other adjustments, resulting in a decline in the operating ratio of the Group's engineers. The Group also absorbed M&A expenses related to the acquisition of two subsidiaries as well as expenses related to the New Normal Adaptation Project. Operating income was ¥653 million (–43.6% YoY) .
Net Income
¥611 million (-17.3% YoY)
While the Group earned gain on sales of investment securities, as a result of the decrease in operating income, net income attributable to owners of parent was ¥611 million (–17.3% YoY).
Consolidated Financial Results (Fiscal Year)
Net Sales
Operating Income
Net Income
Sales per Employee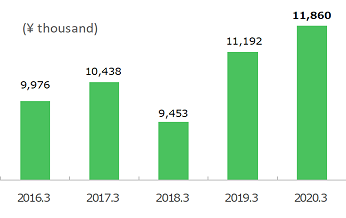 Earnings per Share
Total Assets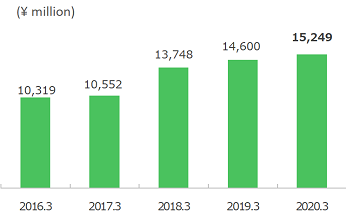 Net Assets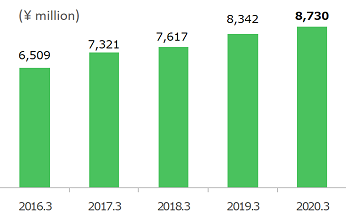 ROE/ROA